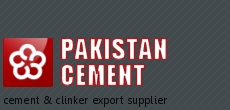 | | |
| --- | --- |
| | International DIN EN 196 |
| | British 12/1996 & BS 4027-1980 |
| | American C-150 |
| | European EN 197-1:2000 |
| | | |
| --- | --- | --- |
| | | | | | | | | |

Karachi ports in Pakistan

We can procure products from many mills and arrange the logistics and shipping in one window for any reputable buyer. We can upload up to 25,000 MT of cement at the Karachi port per week.

Please note that the vessel's details will only be provided upon receipt of LOI and BCL once the availability of the funds in your bank are verified.



General comments and background on the ports of Karachi
Firstly, there are two ports in Karachi. One is Karachi Port, sometimes known as Karachi Port Trust (KPT), Karachi (Old Port) or Keamari. Our Principals mostly utilize Karachi Port.

The other port is Port Mohommad Bin Qasim, otherwise known as Port Qasim.

Karachi Port has two integrated container terminals and some conventional berths while Port Qasim has one integrated container terminal.

Karachi Port has Karachi International Container Terminal (KICT) which is a Hutchinson owned terminal. This terminal is located on the West Wharf of Karachi. This is important as moving cargo from East Wharf to West Wharf is not easy. KICT caters to main line operators and most of the feeder operators call East Wharf where they have to use their shipís gear or the mobile cranes. East Wharf also has a container terminal called PICT which is run by a local company.

Port Qasim is located at a distance of 50km from Karachi City Center and 15 km from National Highway. Qasim International Container Terminal (QICT) is located in Port Qasim and handles 100% of the containerized cargo for that port. It is owned by DPW and the Mega-In Group.

There are four off dock bonded CFS warehouses which are authorized by the government. Two are located near Karachi port and two near Port Qasim



Commercial comments
In general Karachi Portís East Wharf is the least productive and inefficient of all three. But, as Karachi importers and exporters find it cheaper to use, the trade maintains a favourable view of it.

The second most favourable place is KICT, which is also close to Karachi, but unlike east wharf is productive and efficient. Lastly, QICT, is far from Karachi and has similar charges to most Container Terminals. Some industries located in Qasim Industrial Area like it for proximity, and some industries in Northern Pakistan also avoid certain excise taxes if they do not transit through Karachi City.



Karachi ports