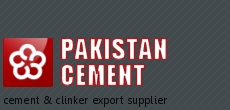 | | |
| --- | --- |
| | International DIN EN 196 |
| | British 12/1996 & BS 4027-1980 |
| | American C-150 |
| | European EN 197-1:2000 |
| | | |
| --- | --- | --- |
| | | | | | | | | |

Why use us and not the manufacturers?
Our prices are competitive and generally lower than the ones offered by manufactures themselves because we have special quota allowanses.
Majority of manufactures ask for cash prepayment - we work with L/C, so our payment terms are much more flexible.
We can secure much earlier delivery than going directly to manufacturers. This is because they have a waiting list and through our close contacts we have preference. Also manufacturers deal with certain inland transporters from factory to port where they have limited capacity in vehicles but where needed we can organize to do this with other transporters speeding up the process equally the loading at the port.
Manufacturers do not get involved in logistics and work on FOB basis only, whereas we can work on CIF and CFR basis.
Also, surprisingly manufacturers have shortage of foreign language speakers.
What trading companies do we work with?
We work with medium to large size trading companies with a minium annual revenue of 500+ million USD. We have worked with each of these companies for a number of years and have developed a close personal relationship.

Our objective is to ensure that Buyers are well informed about the reliability, current production schedule and financial compliance of the major suppliers in Pakistan. Unfortunately several international buyers have paid advances or opened L/Cís only to find that supplies are not forthcoming due to shipping issues or financial default of suppliers.

We will make the deal as kosher as possible for the Buyer and guide the Buyer through the deal from the start to finish to make sure the Buyer is satisfied with our suppliers' performance.